MediaCon'18 to 'Document' dissent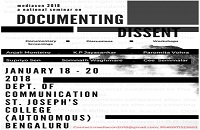 Following the up rise of intolerance and dissent being silenced in extremely violent ways about the country, the Post praduate students of the Mass Communication Department at St. Josephs College are organizing a rigorous national symposium – MediaCon'18 as an academic response... More+

Women-centric film garners light at SJC


Fireflies', a short film presented by Samaj Pragati Sahayog and the Films Division of India was screened at the St. Joseph's College Auditorium on Tuesday. The film portraying the women's social movement in Manipur is directed by Johnson Rajkumar, Head of the Department of Communication... More+

ULF back with internships


Udhyam Learning Foundation (ULF), a non-profit organisation based in Bangalore conducted its second recruit in the campus on Tuesday. The hiring was aimed to provide students with an opportunity to give back to the society through a summer internship with the organisation... More+

META'18 focuses on dialect

This year META kicks off featuring work done by students of the English Department. This year META with 'Podium' plans to journey into the local, into various languages that have their own worlds in themselves. Podium this year also features an open session on 23rd to 25th of January for students from other streams... More+

Commerce International Conference

The Department of Commerce of St. Joseph's College (Autonomous) in collaboration with SUNWAY COLLEGE (VU PROGRAMMES), Malaysia and ISDC is organizing A Two day International Conference on "Scope of Emerging Business Dimensions and Sustainable Development"... More+

Election Commission meets SJC Students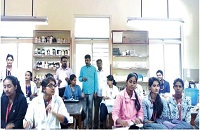 Election Commission visited St. Joseph's College on 8 January in order to create awareness among students about the upcoming Assembly Election in May 2018 and to issue Voter's identity cards for students above 18 years... More+

Josephite wins Best Young Scientist Award in Maths


Sebastian Thomas, student of St. Joseph's college - Bangalore, wins grand awards from an expert panel of 10 members at the Internation¬al Science Conference for his groundbreaking research in the field of mathematics... More+

Dr. Fr. Ambrose Pinto: An indomitable spirit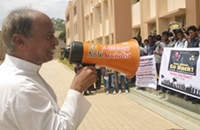 Dr. Fr. Ambrose Pinto, an eminent intellectual, activist and beloved guide to hundreds of students was born in Bajpe, the suburbs of Mangalore on November 23rd, 1950. He was a Jesuit scholastic who did his scholar studies at St. Aloysius, Mangalore. More+

Patron of the downtrodden


Dr. Fr. Ambrose Pinto SJ was a writer, thinker, activist intellectual known among all those who work for Human rights. Principal Fr. Victor Lobo, expressed his heartfelt condolences, "We were good friends and used to have long conversations. More+

A great loss for the SJC family

Dr. Fr Ambrose Pinto was closely associated with the St. Joseph's institutions. He was the Principal of St Joseph's College from 2003 to 2011, before which he was the Principal at St. Joseph's Evening College, Bangalore and Director of Indian Social Institute, New Delhi. More+

Farewell to a great guide

Dr. Fr. Ambrose Pinto played an important role in shaping the lives of his students. He was not just a good administrator but a very influential teacher too. His strong sense of political consciousness inspired many of his students. He was socially very active and he lived up to the term. It was not passive spectatorship. He always fought for social equality and social justice. More+

Collegues bid adieu to Dr. Fr. Ambrose Pinto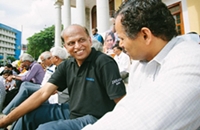 Dr. Fr. Ambrose left behind a lot of memories among his near and dear ones. Some of the professors shared their memories with him. Byatha Jagadeesh, a faculty and a prominent lawyer, "I first met him in Delhi, when he was part of the Narmada movement. I had known him as only a social activist in the beginning. More+

Fighter for justice and rights

Dr. Fr. Ambrose Pinto has always stood for the rights of Dalits and downtrodden. His death is a great loss not only for the Jesuits but also the country. He was an academic activist and was associated with civil society movements. More+

Campus flashback: 2017 at a glance


Nirvaan 2017 kick starts at SJC - a national level intercollegiate cultural fest. State Level Seminar on Research in Business The state level seminar on Research in Business was organised by the Department of Commerce of St. Joseph's College (Autonomous)... More+

Alert! Intl. conference at SJC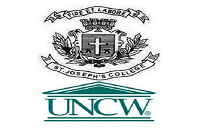 School of Social Work, University of North Carolina, Wilmington in collaboration with the Department of Social Work, St. Joseph's College, Bangalore will be conducting international conference on the topic- Implication of Social Work Practice in the Glocal World... More+

SJC ushers Christmas Humanitas '17

St. Joseph's to expe¬rience a spectrum of vocal mel¬odies at 'Humanitas 2017' this Saturday, December 16, at 3 pm. This year the event goes by the theme 'Choral kindness'. The harmonious set line up for the evening celebrations include Serenata Chorale,... More+

AICUF celebrates live crib at SJC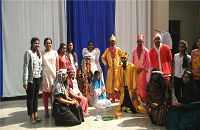 All India Catholic University Federation (AICUF) conducted a Food Fest and a live crib at the quadrangle for the under graduate students on Tuesday. Josephites doing their under graduation organized Food Fest and Humanitas 2017. The Food fest included Grilled corner, Hindi Parishad stall and Christmas fayre... More+

SJC scales DKD2 again after ten years


Nimish Bharadwaj, III B.com, was one of two students selected by the Karnataka Goa Directorate of the NCC to go to the Draupati Ka Danda II (DKD2) for a mountaineering course representing Karnataka and St Joseph's College. "The Base camp was at 12,500fts at Machadar and the height gain we did was 15,800fts,"... More+

SJC visits varsities to learn from them


SJC is preparing itself for the University status by learning from prominent universities across the country. "The management has taken the university status very seriously and has formed various committees like the advisory board... More+

College students from Goa come visit SJC campus


A group of 23 students and 3 faculty members from Parvatibai Chowgule College of Arts and Science, South Goa visited St. Josephs College on Friday. On interacting with the departments of Social Work, English, Economics and Big Data in order to enhance... More+

Bangalore Traffic Police honoured at SJC


The Bangalore Traffic Police were honored by the Children's Movement for Civic Awareness (CMCA), a non-profit organization working with students, at St. Josephs College. Over 2000 students from various schools across the city partook in the appreciation of over 100... More+

No sports ground, yet spirits soar high at SJC

The absence of sports grounds for the students of SJC has no doubt hindered their practice sessions. However, a multi-purpose sports complex which is currently under construction will soon resolve this issue. As the institute plans on becoming a university, there is a need for more buildings. The ongoing construction...
More+

SJC becomes first college to go the green way


St Joseph College is striving to make students understand the value of solar energy by installing solar panels at the Arts and Science blocks and becoming the first ever institution in South India to do the same. The College received a Power award last month from Chief Minister Siddaramaiah... More+

College gears up for placements

With the commencement of the even semester, SJC is all set to bring in more placements this year. The college has planned on initiating the placement process from November and stretch the drive till March. The College is providing off campus placements for all the courses, with an addition of B.Com in this year's list. Disneyland... More+

Mr Rajesh Natarajan visited St Joseph's College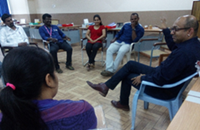 Mr Rajesh Natarajan, faculty at the Alber School of Management and Economics, Seattle University, visited St Joseph's College. Mr Rajesh Natarajan, a regular employee at Microsoft in Seattle, Washington, is a visiting faculty at Seattle University, with which St Joseph's College Autonomous works closely.
More+

NAAC team begins assessment of SJCs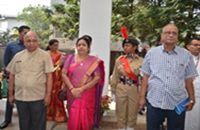 A three-member National Assessment and Accreditation Council (NAAC) peer team consisting of Dr. P. Prakash, Vice-chancellor of SRM University, Dr. Mrs. Dhulasi Vardharajan, from the School of Economics, Madurai Kamaraj University, Madurai, and Prof. M D P Rao, former principal...
More+

Pratibha 2017 inaugurated


Kannada actor Vaishali Deepak on Monday urged the students to awaken and protest against the injustice in society, adding that a failure to do so would lead to doomsday. She was inaugurating Pratibha 2017, the annual intra-college festival of St. Joseph's College
More+

Danish Sait in SJC courtesy Kannada Sangha


The Kannada Sangha of St. Josephs' College pulled off a spectacular event by bringing in radio sensation and newly-minted movie star Danish Sait as Chief Guest to distribute the prizes for the winners of the Kannada Sanchalana
More+

SJC students back bone marrow donor drive

More than a hundred students registered to be included as bone marrow donors at the St Joseph's College on Friday. The effort was organized by the National Social Service (NSS). The Bangalore Medical College Development Trust (BMCDT) in association with the Infosys Foundation started the Bone Marrow Registration
More+

SJC gears up for NAAC team's visit


St Joseph's College has been advised to both highlight and boost its research activities if it hopes to rise in the rankings of the National Assessment and Accreditation Council (NAAC)whose review team is expected in the college next week.
More+

11 colleges in Datagram fest

Learning and fun came hand in hand at the intra-collegiate fest Datagram v2 organised by the Department of Big Data Analytics at the St Joseph's College today. Eleven different colleges participated in it. The department scheduled various events throughout the day such as Mad Ads, Dumb Charades, Treasure Hunt, Quiz, JAM
More+

Apply for electives on Nov 4, students told

Second year undergrad students of the 2015-2018 batch can register for electives of their choice as per the Choice Based Credit System (CBCS) on November 4, between 10 to 11 AM. The electives can be selected online and will be allotted on a 'first come, first served" basis. The students can login to the college website at sjcblr.co.in
More+

GST a boon for big and small firms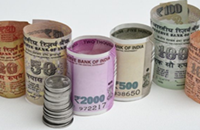 The Goods and Service Taxes (GST) regime was given a thumbs up at a two-day seminar-workshop at St Joseph's College as a very self-reliant law that allows any business firm, big or small, to do their own taxation, according
More+

Warning against accepting warped histories

American school children are being fed a steady diet of distorted history and this has to do with governments of countries increasingly seeking to propagate revised histories, according to Dr. Cheriyan Alexander. In a special lecture on Monday at St Joseph's College, he discussed the practice of revising history by the rightwing administration
More+

Sanchalana festival to uphold Kannada

The Kannada Sangha of St Joseph's College on Thursday launched it's first-ever intra-collegiate festival - 'Sanchalana - the movement'. The festival takes place on Thursday and Friday and is a fete of Kannada literature, art and music.
More+

SJC to felicitate NET graduates

St. Joseph's College will honour 18 students who have cleared CSIR UGC NET, CBSE UGC NET, KSET and GATE exams on September 1. "On an average, at least 2 students from each department have qualified for various kinds of tests.
More+

Christites sweep Economics festival!


Students from Christ University secured the overall championship of the Oikonomika 2017, bagging 37 points overall in the 5 events held. It was a clear victory for the Christites and Mount Carmel College were runners up. Oikonomika
More+

Youth urged to fight gender violence

Gender-based violence should be prevented at the college level and students must take initiative to end gender violence, urged panelists at discussion was organized at St. Joseph's College on Tuesday. According to a survey conducted by Ipsos Global Trends 2017
More+

Mixed responses to GO

An atmosphere of mystery and thrill took over as Josephites watched the public screening of the Season 7 finale of the Game of Thrones TV series on Monday evening, Graphic Inc. in collaboration with the Rushes film club of St Joseph's College
More+

Exodus celebrates God's love


For the second time in a row, students of Kristu Jayanti College secured the overall championship of the 30th edition of Exodus, bagging 13 prizes out of the 21 events held. The 'Jayantians' gave a tough competition to participants
More+

Workshop on Happy Parenting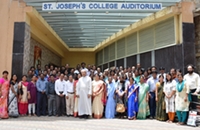 A one day workshop on 'Happy Parenting' was organised by the Parents' Council on Saturday, 19th August, 2017 in the college. The programme started with a Prayer Song by the students of BSW followed by the inaugural address given by the Vice Principal Administration and Registrar Rev. Fr. Clarence D'souza SJ.
More+

Exodus Gospel festival on August 26, 27

St Joseph's College is getting ready for yet another festival – the 30th edition of the annual inter-Collegiate Gospel fest Exodus – close on the heels of the just-concluded Allura festival. Exodus has as its theme "Acceptance" and will be held on August 26 and 27. It is being organised by the Christian Student Association (CSA) of SJC. More+

Manipur CM sidesteps AFSPA issue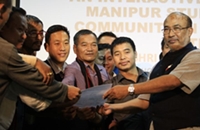 BJP Chief Minister of Manipur Biren Singh on Tuesday fended off searching questions about issues like the continued imposition of the Armed Forces Special Powers Act (AFSPA) in the state. Speaking to the Manipuri Diaspora at St. Joseph's College More+

SJC workshop crafts cinematographers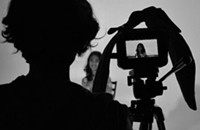 Second year BVOC film students have an opportunity to direct their own short films at an ongoing week-long cinematography workshop. They are being given industry-level training by Ravindra Satvik, an established More+

Teach for India seeks recruits in SJC

Teach for India, a non-profit organisation, conducted a call for students of St.Joseph's College to joint its fellowship programme on Tuesday. This programme provides an opportunity for students to pick up leadership skills, for serving the poor children in the varied areas of subject specialisation. Ashmi, a Fellowship Recruiter More+

Role of news anchors who yell questioned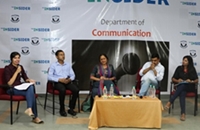 A news anchor should not be the star but the medium in the discourse of news given the trend of news anchors yelling at guest panelists to create a dramatic prime time segment, observed Maya Sharma, Resident Editor of NDTV. More+

Christ University is overall champion at Allura


Christ University swept the competitive events to become overall champions at the Allura 2017 intra-collegiate festival at the St Joseph's College that concluded on Saturday last. The heavy rain couldn't wash away the spirit of this fest More+

Allura 2017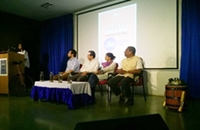 "Students must learn to use art and their devices to construct images to tell what they want to tell," according to Ekta Mittal, co-founder of Maraa, a City-based media art collective. She was a guest of honour at the launch of the two-day Allura 2017 More+

SJC drive to enroll student voters

St Joseph's College students can now apply on campus for their voter ID cards that will make them eligible to vote in the upcoming State assembly elections in 2018 and the national elections in 2019 to the Lok Sabha. The Public Relations Office (PRO) More+

Allura fires up the spirit of competition

Fifteen different colleges, including one each from Chennai and Mangalore, participated on Friday in a number of competitive events at Allura 2017 and overall there were 206 student participants on the first day of the two-day festival. More+

PGDHRM course launched


St Joseph's College launched its first-ever Post Graduate Diploma Human Resource Management Course (PGDHRM) on Wednesday evening. "The course is being held for the first time (2017-18) and is offered by the Department of Commerce," More+

Simulating the UN processes at SJC

Students of St. Joseph's College had an opportunity on Thursday to be part of a simulation of the United Nations and its functioning. The Model United Nation Society held a conference for students to perceive how discussions are held in United Nations More+

'Genderlogue' to sensitise men on equality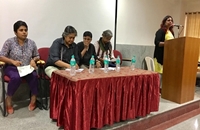 Genderlogue, a conference on gender issues organised at the St Joseph's College on Saturday, broached the idea of 'substantive equality' and for men to be sensitised towards gender issues and empowerment of women. Co-organised by Women Power Connect (WPC), Friedrich-Ebert-Stiftung (FES) More+

Green signal for Allura fest on Aug 18-19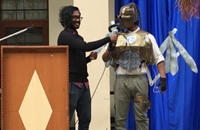 An art installation referring to the atomic bombing of Hiroshima and a Steampunk robot prancing around were the highlights of the 5th edition of the Allura festival which was inaugurated at St Joseph's College on Saturday. Allura is organized by students of the Bachelor of Visual Communication (BVC) More+

Snapshop at Allura on August 19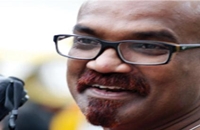 Looking to advance your beginner photography skills to that of a professional? You can do it at 'Allura' 2017. A photography workshop will be conducted at St Joseph's College during the Allura festival on August 19 More+

Fight to end bias, urges Fr Lobo


On the occasion of the 70th Independence Day, the faculty and students of St Joseph's College were motivated by Rev Fr Principal Victor Lobo to face the great challenge ahead of freeing India from communal disturbances, intolerance More+

Call to strengthen Indo-US strategic partnership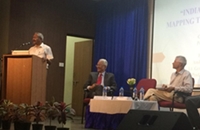 To understand the role of a strategic partnership between India and the US, a panel discussion was organised at St Joseph's College on Thursday. The panelists for the discussion were Ambassador P S Raghavan, Lt Gen. Prakash Menon and Prof. Narendra Pani while it was chaired by Prof. M J Vinod. More+

Global Incubation Hub for students launched in SJC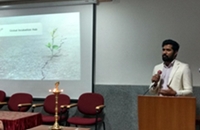 St Joseph's College on Thursday inaugurated a Global Incubation Hub to promote young entrepreneurs and start-ups among its students. "Business incubation is a unique and highly flexible combination of business development process More+

Thousands take part in 'March for Science' in city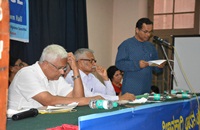 Hundreds of scientists, professors, school and college students and others, concerned over the rising anti-science and superstitious trends emerging in the country, joined the India March for Science in the City on Wednesday. More+

Metonym enters second day

The second day of the Metonym festival organised on Wednesday by the Department of English saw events like Impromptu and Poetry Slam. Dr Arul Mani, Professor and one of the organisers, said, "It is a literary event that provides a platform for the student's abilities More+

Signature campaign for Science March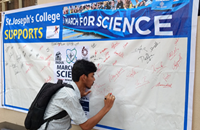 The Department of Social Work at St Joseph's College is offering with a certificate course in the dance form Bharatanatyam. It is a 3-credit course spanning 90 hours. The fee structure More+

Meta restarts with new events

The third edition of 'Metonym' started on Tuesday with three events of Fanfiction, Bollygood and Illustration at St Joseph's College. "The fest got a break due to other events in the college but now we are back with several events from today onwards. The valedictory will be on Friday More+

Ramapo students in tete-a-tete on democracy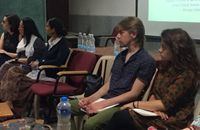 Students of St Joseph's College on Tuesday got a chance to discuss the 'faces' of democracy with six students from Ramapo College, New Jersey, USA. The main point of the conversation was to understand the framework and practice of democracy in India and the USA and how they shape ideologies. More+

SJC to offer certificate course in Bharatanatyam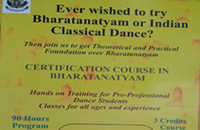 The Department of Social Work at St Joseph's College is offering with a certificate course in the dance form Bharatanatyam. It is a 3-credit course spanning 90 hours. The fee structure More+

SJC offers 3 courses in film-making

The Department of Communication is offering three specialised certification courses called 'The SJC FastTrack' for those who are passionate and creative about film-making from August 15. 'The SJC FastTrack' course is open More+

Now, an app for aspiring urban gardeners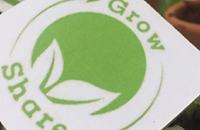 The Grow2Share app is bringing communities together in the City even as it is used to encourage urban gardeners to be self-sufficient and self-efficient. More+

Two new blocks inaugurated at SJC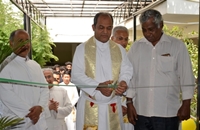 St Joseph's College marked a historical moment with the inauguration of two new blocks - Aruppe Block and Nelapathy Block - in the undergraduate and postgraduate campuses on saturday . More+

Your head is older than your feet: Anderson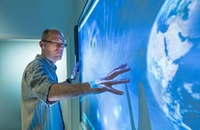 Discussing key aspects of Einstein's theory of relativity and exploring the extremes of physics were some of the leading points of the lecture by Prof. Nils Anderson, professor of Applied... More+

Ignatian Week to end with Holy Mass today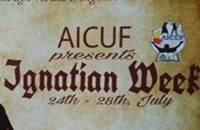 The Ignatian Week will conclude on July 28 (Friday), with a Holy Mass in the St. Joseph's College Auditorium for all the Catholic teachers and students. Although St Ignatius' Day falls... More+

Ignatian Week sees more contests

The second day of the Ignatian Week organised by the AICUF at St Joseph's College saw more intra-collegiate events and contests like the Pencil sketching, Rangoli, and Solo Singing. The events took place at the Staff Seminar Hall, Hostel Block (UG) and at the De Nobli Hall. More+

Call to help autistic kids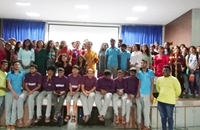 With the increase in the spread of Autism Spectrum Disorder (ASD) amongst children, Assisted Living for Autistic Adults (ALFAA) has called for acceptance of autistic children as "normal". "Autism is about the transfer... More+

AICUF launches Ignatian Week in SJC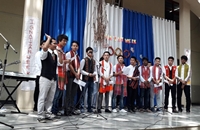 The All-India Catholic University Federation launched the Ignatian Week in St Joseph's College on Monday with a series of events and contests. The inauguration ceremony was presided over by Fr Principal Victor Lobo... More+

No real need for official flag, says K'taka politicos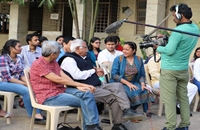 Cutting across party lines, several participants in a discussion on the necessity and meaning of the Karnataka flag in terms of identity stated that Karnataka has a cultural flag and does not need a political flag. More+

SJC student wins taekwondo gold medal in S. Korea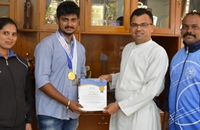 Prajwal Bhoopal, a student of III B.Com from St Joseph's College (Autonomous) bagged the second place in black belt (male 17-19 years category) at the Chuncheon Korea Open tournament in taekwondo in South Korea. More+

A Report on Parents' Council Meet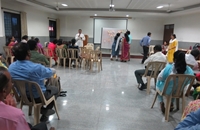 After successfully organising the orientation programme for parents of students admitted to the first year UG and PG courses in June, the Parents' Council conducted the Parents' Council Meet on 14th July 2017 at 5 pm in the De Nobili Hall of the college auditorium. Ms Poonam Ahuja More+

Congratulations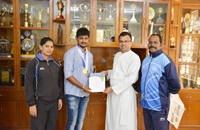 Prajwal Bhoopal of 16Bcom54044 has won the 2nd place in the black belt (M 17-19yrs) "CHUNCHEON KOREA OPEN International Taekwondo Championship 2017" held in Chuncheon, Republic of Korea from 2 -7July 2017 and was awarded with outstanding achievement certificates. More+

Learn from the bacteria, says Prof Nayar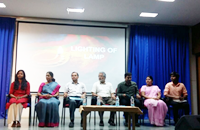 Post graduate students of the Department of Microbiology were urged on Monday by an expert to discover the world of microbes and educate the world of medicine about them. Dr Ravi C. Nayar, Consultant Otolaryngologist More+

META Schools festival winds up


The two-day Meta Schools Fest held in St Joseph's College came to a close on Saturday last with students participating in the Spelling Bee and Poetry Slam. The students competed on the basis of seniors and juniors. More+

Use biofertilisers to save soil, farmers advised


A strong warning has been sent out about excessive use of fertilisers that deplete soils along with a call to use biofertilisers as a substitute. Dr. D Anusuya, retired Botany Professor, Bangalore University... More+

Lead, be led or get lost: Sahay


There are three traits of life and these are 'Lead, Be Led or Get Lost' and the student has to choose the trait that will help him get ahead, according to Sanjay Sahay, Additional Director General of Police, Public Grievance and Human Rights Cell. More+

Meta Schools fest launched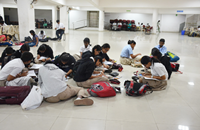 Five schools from the City participated in the Meta Schools festival organised by the Department of English in St. Joseph's College. Meta Schools is the first event out of four events planned under the banner of Meta by the department this year.... More+

NSS plans rural camp

The National Service Scheme unit in St Joseph's College has planned a slew of social activities for 2017-18 from rural camps and food for the needy camps to celebrating human rights. NSS unit 1 was inaugurated by Vice Principal of the PG Block, Fr Melwyn D'Cunha and NSS program officer, Prof. Selwyn Paul J, Department of Computer Science on Thursday. More+

Youth urged to follow liberal side of religions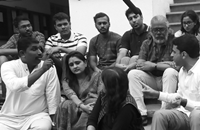 Youth should respect and take the liberal side of their religions to avoid fundamentalism and extremism which leads to communal violence. This was the consensus of a discussion in St Joseph's College on Thursday moderated by Maya Sharma ... More+

JRF collaborates with Seattle Uni

The Josephite Research Forum (JRF) is currently in collaboration with Seattle University and a presentation of aspects of the tie-up kickstarted the first JRF meeting for academic year 2017. JRF as an inter-disciplinary platform that organises meetings, debates, and research presentations for students. More+

Faculty use Zoom for interactive learning


Zoom, an app which allows for interaction between teachers, was introduced to select members ofthe faculty from the science departments at SJC on Wednesday. Dr Susan Mary Philip, Department of Biotechnology, and her colleagues interacted... More+

SJC aided staff protest 7th pay panel scales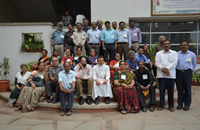 Demanding a more democratic process in finalizing the Education Policy and seeking upward revision of the 7th Pay Commission scales, the aided teachers of St Joseph's College who are members of All India Federation of University & College Teachers' Organizations (AIFCUTO) united for a token protest in the college. More+

First-ever inter-collegiate Ignatian Week in SJC

The All India Catholic University Federation (AICUF) in St Joseph's College, Bangalore, has scheduled the first inter-collegiate Ignatian Week from July 24 to 28 this year. According to Prof Amita Priyadarshini, advisor to AICUF, "The upcoming event in the campus is Ignatian Week in order to talk more about Ignatius Loyola, the founder of the Jesuit order." More+

Students welcome GST regime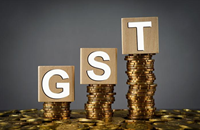 One of the benefits of GST is the merging of a huge number of central and state taxes into a unified tax system that will mitigate the cascading tax system which will in turn encourage inter-state trade and pave the way for a common unified national market... More+

Botanical Society Talk on 27th June 2017


On the 27th of June 2017, The Botanical Society, held its first programme for the academic year 2017 – 18. The speaker of the programme was Dr. Thara Venkatappa, who is an alumna of our very own college. Ms. Poonam Ahuja... More+

Fresh faces elected to Student Council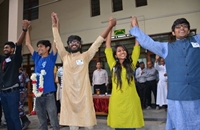 The results of the elections to the Student Council in St Joseph's College were announced on Friday evening with Aaron S.George elected as the President and Charles Joshua as the General Secretary. The results were announced... More+

Dalits look to youth power for liberation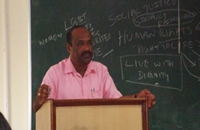 Two Dalit activists, Chinna Krishna and Ganesh Kolager, on Thursday conscientized SJC students pursuing a PG degree in social work about the situation in the slums in Bangalore and how factors such as caste, social hierarchies,... More+

Kannadigas urged to spurn Hindi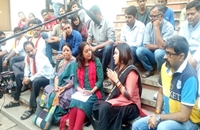 Members of the Karnataka Rakshana Vedike(KRV) on Thursday argued that they were okay with English as it helps in globalization but they do not want Hindi in Karnataka or Bengaluru. They were participating along with other experts... More+

Student Council elections today in SJC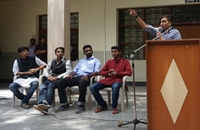 St Joseph's College has readied itself for Election Day on Friday (July 7) when the new faces to the Students Council will be chosen by the students. Several candidates are vying for the posts of President... More+

Dr Rajamani seeks to make chemistry greener


Dr Sunita Rajamani from the Department of Chemistry at St Joseph's College is applying for fresh funding to take her research on ionic liquids forward. Dr Rajamani who has done her PhD at the University of Pisa, Italy,... More+

Record applicants for placements this year


With the start of the new academic year, the Placement Cell at St Joseph's College is on their toes with a massive number of 749 applications from UG and PG students hoping for jobs. The majority of the applications More+

Poll candidates pitch ideas, make promises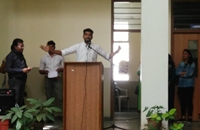 The candidates hoping to be elected to the Students Council of St Joseph's College on Wednesday pitched their promises and plans to large crowds of student voters in the PG Quadrangle with their supporters cheering them ... More+

Inter-religious events by IRHM

The Inter-Religious Harmony Movement (IRHM) of St Joseph's College will be organising various activities like guest lectures, film screenings, discussions and exhibitions hold events round the year to promote spirituality. More+

State Level Seminar on Research in Business


The state level seminar on Research in Business was held on the 4th of July 2017, organised by the Department of Commerce of St. Joseph's College (Autonomous). This seminar was the pioneer of the seminars being held henceforth. More+

Campaign ends for Student Council polls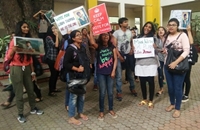 The two-day campaign by candidates hoping to be elected to the Students Council of St Joseph's College ended on Tuesday with supporters of the candidates heating up the campus with spirited slogans, dancing and drumbeats.... More+

Rs 20L funds for neutron star research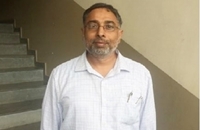 The Department of Physics at St. Josephs College is set to receive Rs 20 lakhs funding from the Department of Science and Technology New Delhi for deep research on Neutron Stars. Dr. Arun Varma Thampan from the Department of Physics will be able to see his prior research work... More+

Call for research into effects of GST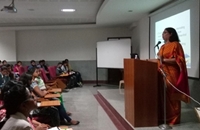 Lack of research is the reason why one cannot determine the effects the Goods and Services Tax (GST) might have on the rural area, according to Dr. Subhashini Muthukrishnan, Dean of Social Sciences, St Joseph's College. She was speaking at a one-day state-level seminar... More+

Special Job Oriented Diploma and PG Diploma Courses 2017 – 18




More+

Rights in danger:Prashant Bhushan


Indian democracy is facing its most serious challenges in history and all the rights given to the people by the Constitution are under threat today, warned Prashant Bhushan, noted social activist and a senior advocate in the Supreme Court. He was speaking at a symposium... More+

Community radio covers 200 villages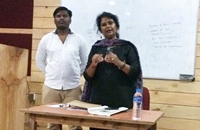 Community radio can penetrate where neither newspapers or the internet can, primarily the villages, according to Shamantha D.S, founder of Sarathi Jhalak 90.4 MHz Community Radio. She was speaking to students and faculty of the Department of Mass Communication of St. Joseph's College (SJC)... More+

High drug dosages tend to spur disease

People must resist high dosage of drugs in order to remain healthy, according to Professor Govindasamy Mukesh, of the Department of Inorganic and Physical Chemistry, Indian Institute of Science, has warned. Speaking at a discussion organized by the PG Chemical Society More+

IGNITORS ends with a retreat


The last day of IGNITORS ended with a meaningful retreat for the post-graduate Catholic students in Xavier Hall in St. Joseph's College. The first session was on 'Rejection' and it was explained through a series of Imperial Blue advertisements and the life of Marilyn Monroe. Fr. Antic said... More+

Research colloquium inaugurated


A critique of Nike's 'The Girl Effect', of how humanitarian subjects are used as economic subjects by the corporates, was made at the first research colloquium of the academic year 2017-18 which was held in the post graduate block of St Joseph's College on Wednesday evening. More+

Call to be aware of trafficking

Citizens are unaware of the human rights they are entitled to and buckle to the unseen pressure exerted upon them to 'voluntarily' accept acquisition of Aadhaar cards, according to activist Brinda Adige at a session on Human Rights at IGNITORS on Thursday. More+

Justice still pending for Kandhamal victims

The criminal justice system in India is supposed to provide justice to the victims but the criminals are benefitting from it, says Saumya Uma, the author of "Kandhamal: Introspection of Initiatives for Justice 2007-2015". She was speaking at the launch... More+

Report on Orientation Programme for Parents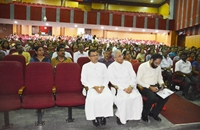 Inspired by the response of the parents to the parent orientation during the last academic year, the Parents' Council, headed by Dr. Ronald Mascarenhas organised an orientation programme for the parents and guardians of the new students who have enrolled for ... More+

Call to fight abuse of children and women


There is a need to spread awareness across all educational institutions of Karnataka against child and women abuse, urged Fr Victor Felix, Vice Principal, SJC Indian Composite PU College.... More+

WACC membership limited now to 500


With a limit of 500 members this year, registration of freshers to the Wildlife Association and Conservation Club in St Joseph's College commenced on Friday. The club aims to spread awareness about endangered wildlife species and inspire others... More+

The ABC of HIV-AIDS prevention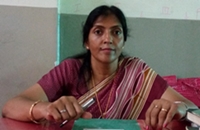 The ABC of Precaution is what can protect people from the ravages of HIV-AIDS, advised Dr Sherly Thomas of the Department of Zoology. "The A stands for Abstinence, B is for loyalty to one partner and C refers to safe sex using condoms,"... More+

'Faithless electors' an anomaly in US elections


One of the biggest threats to American democracy via the elections is the emerging phenomenon of 'faithless electors', a legal issue which has never been challenged in the Supreme Court. This anomaly was pointed out by Professor Russell Powell... More+

New scholarships for women

The Santoor Women's Scholarship to empower women from disadvantaged economic backgrounds has been launched by Wipro Consumer Care and Wipro Cares. The scholarship offers grants of Rs.24,000 and Rs.36,000 per year to girl students More+

Allura festival to go green this year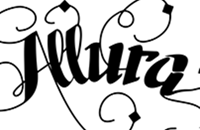 There's going to be a zero-waste, environmentfriendly festival for the first time on the St Joseph's College campus. Allura, organised by the Department of Communication, will be a two-day media and art national festival slated for August. More+

Literary Society inauguration today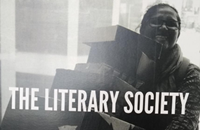 The Literary Society of the Department of English will be formally inaugurated on Friday, June 23 at the Xavier Hall at 4 p.m. Prof. Arul Mani, from the department, said that several events are being planned this year under the auspices of the Literary Society. More+

IGNITORS comes to an eventful wrap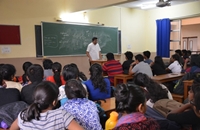 The three day IGNITORS programme finally comes to an end with enlightening topics for discussion. Students had various subjects to debate on like caste and gender, challenges faced by youth, youth and love, anger management, etc. More+

NCC orientation & selection kickstarts


The orientation program for selection of a fresh batch of NCC cadets started on June 21. There were around 50 students who turned up for the event. The programme detailed them about NCC, its motto, their achievements More+

Bengaluru celebrates International Yoga day


500 yogis gathered under one roof to perform a 1 minute Sirshasana (headstand) at the rooftop of World Trade Centre, Bangalore on June 21 to mark world International Yoga day. The programme commenced More+

IGNITORS ignite students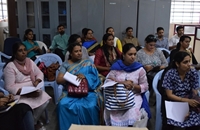 IGNITORS, an integral formation programme for the undergraduate students of St. Josephs Arts & Sciences College commences on June 19. The three-day session will be conducted from 11 a.m. to 4 p.m daily with over 18 speakers talking about topics ranging from Self Esteem... More+

Focus on love, anger, creativity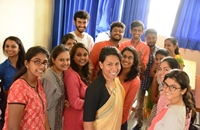 Sessions at the three-day intensive workshops organised under the IGNITORS banner on Monday covered various areas of creativity, personality and emotional development. A session facilitated by Ms. Neeta Gerosa Pereira, Co-ordinator, Dept. of Psychology, focused... More+

IGNITORS programme in SJC next week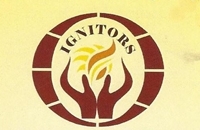 With the commencement of a new academic year, students of the SJC will be plunged nest week into IGNITORS, an integral formation programme. The third and fifth semester students will participate in this intense programme for three days More+

SJC opens despite bandh call, monsoon showers


Despite a state-wide bandh call and the onset of the monsoon, students poured in through the portals of the St Joseph's College, all set for the beginning of the new academic year. Hundreds of excited new juniors and freshly-appointed staff scrambled More+

Library orientation commences

The first year PG students were introduced to the facilities of the libraryat an orientation held at the PG block library on Monday. The orientation was driven by Fr Dr MelwynD'Cunha, Vice Principal, PG Block. The students were briefed by librarian Anasuya B N More+

Report on Spectrum valedictory program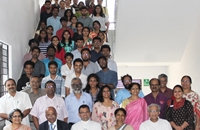 22nd March 2017 : The academic year of 2016–17 for Spectrum, a forum for politics and international affairs, was concluded with the valedictory ceremony held here at St. Joseph's College that wrapped up an exciting year of lectures and seminars by esteemed scholars. The ceremony was also a formal... More+

Dept of Political Science holds student seminar


The Department of Political Science (Master's Programme), SJC organised the Third Post Graduate Student Seminar on March 15, 2017. The theme for the seminar this year was 'State of Indian Republic 2017'... More+

SJC gears up for Football Tournament


The Rotary football club is organising a Rotary Football Tournament from March 6 to March 15, 2017.The finals are being conducted on March 15 , 10 a.m. at Karnataka State Football Association stadium in Ashok Nagar. SJC will play against CMS Jain for the finals. For the semi- finals... More+

UGC Sponsored two day National Seminar


The Departments of Sociology and Industrial Relations organized a UGC sponsored two day national seminar on the subject of Work and Gender on 1st and 2nd of March 2017. Important as work is for income, production and status, people are not defined solely by their work, nor is it... More+

SJC hosts Bangalore Lake Summit 2017


With a concern to create awareness, rejuvenate, conserve, and manage the urban wetland ecosystem, focusing on the lakes in Bengaluru city, BLS (Bangalore Lake Summit) was organized at the campus on March 6. The theme of the summit circled around various topics that include... More+

Students of MSW visit Central Prison in Mysuru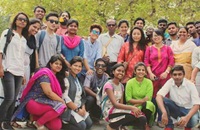 The students of II year MSW visited the Central Prison and Prison Training Institute in Mysore on Monday. The field visit was part of their subject 'Juvenile justice and Correctional Administration'. The objective of their visit was to understand how the prison system works and... More+

Intercollegiate fest 'Tek Olma' inaugurated at SJC


The one day inter collegiate physics fest of the post graduate students of Physics, 'Tekolma', was inaugurated on February 27, 2017. Dr Sharath Ananthamurthy, Professor at Bangalore University inaugurated the fest which was held at Xavier's hall in SJC. Dr Ananthamurthy spoke about the importance of culture and... More+

Panel discussion on Ramjas issue at SJC


Department of English organised a panel discussion on February 27 to express solidarity with the Ramjas college incident. The event which took place in Ramjas college, New Delhi, when two students of JNU, Umar Khalid and Shehla Rashid Shora were invited to address the students as... More+

SJC engages in 'The Global Classroom'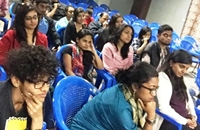 In an effort to educate students about the idea of world view, Department of Communication in St Joseph's College, Post Graduate Centre, held a 'Global Class', on February 15 2017. The students were engaged in an interactive session... More+

St Joseph's College (Autonomous) Hosts Its First National Short Film Festival RNFF'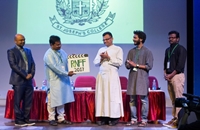 St Joseph's College (Autonomous) officially hosted its first Rushes National Film Festival (RNFF) 2017. This is the first film festival organized by professional courses of Filmmaking and Animation. The event... More+

Meta goes 'Over The Top' this time at SJC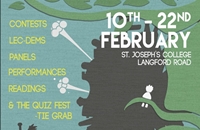 With an array of events taking place at Meta, the literary fest celebrates the baroque imagination with their theme 'Over The Top' at SJC. The annual literary fest is organized by the Department of English. It began on February 10 and ... More+

A Visit To National Law School Of India University, Bangalore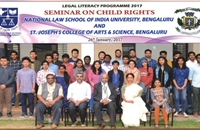 On 26th January, 2017, Students from St. Joseph's College (Autonomous) along with Professor Jerome Nirmal Raj visited National Law School of India University (NLSIU), Bangalore, for a one day seminar on Child Education, Child Rights, and Right to food... More+

Urban growth impacts biodiversity: Dr Katti


Urban growth is not a static growth, it is a global phenomenon. Goods, services and information move across countries, which is a part of globalization. This has impacted the biodiversity... More+

Research project on public health center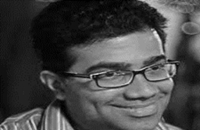 With a funding of one and a half lakh by Bharathiar University in Coimbatore, Prof. Kiran Jeevan, social worker and Lecturer at SJC, researches about the 'Clinical Management and Governance ... More+

Talk on Sustainable Development


On 17th January, 2017, St. Joseph's College, (Autonomous) played a host to Dr.A.Ravindra (IAS Retd.), former chief secretary to Government of Karnataka who is currently the Chairman, Board of Governors ... More+

Nirvaan 2017 kick starts at SJC


Nirvaan 2017- Namma Ooru Bengaluru kick-started on January 12 in St Joseph's college after a lot of anticipation. It will continue till January 13. Nirvaan, a national level intercollegiate fest has 43 events, which began with the cultural performances on the first day... More+

RJ Aishwarya provides an insight into radio production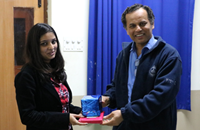 The Department of Mass Communication held an interactive session with Radio jockey Aishwarya of Radio Mirchi 98.3 FM on Thursday. Aishwarya is also an alumna of the department. Sharing her experience as an RJ, she said that creativity, knowledge of music, good sense of humour, presence of mind, staying updated with local,... More+

India needs qualitative research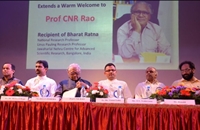 "India has all the potential and possibility of becoming a great world leader in science," said Bharat Ratna, Dr Chintamani Nagesa Ramachandra Rao, better known as Prof. CNR Rao. He has been honored ... More+

Botanical Society Organizes Workshop at SJC

The Centre for Molecular and Computational Biology in association with the Botanical Society, Department of Botany organized a mini workshop on 'Next generation Sequencing' on Jan 11, 2017. The workshop ... More+

Talk on: preservation of Bioresources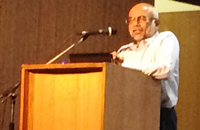 The department of biotechnology organised a national seminar on Bioprospecting and conservation of Bioresources on 12 and 13 January, 2017. The key note address was delivered by Dr. K.N. Ganeshahiah, a faculty... More+

The Science Academies lecture workshop on Biotechnology, Bioprospecting and Conservation of bioresources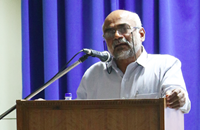 Department of Biotechnology, St. Joseph's college, in collaboration with the Science academies have organised a lecture workshop on Biotechnology, Bioprospecting and Conservation of Bioresources ... More+